A little bit of heat. A little bit of sweet. And a whole lot of flavor.  
That's what you'll get from Mike's Hot Honey — the delicious chili pepper-infused honey now available at MOD!  
Our team of food experts are always looking for new and interesting seasonal toppings – ingredients that take your pizza experience to the next level. We're not exaggerating when we say that this combination of honey and chilies takes things to level 11. 
We sat down with Mike Kurtz, founder of Mike's Hot Honey, to hear all about how he created this sweet 'fire' finishing sauce.  
Let's start with the basics: Why chili pepper–infused honey?   
Since I was a kid, I've always loved the combination of sweet and heat and gravitated towards sauces that combined the two. As a college student, I was studying Portuguese in Brazil and visited a small pizzeria that featured jars of honey with chili peppers submerged in them on all of the tables. I was told by the staff to try drizzling the honey on my pizza and was blown away by the way the flavor of the sweet heat from the honey and chilies paired with the savory elements of the pizza. Chili pepper and honey are two of nature's most unique and wonderful foods. The combination of the two into one perfectly balanced condiment allows the eater to first taste the sweetness and floral notes of the honey, followed by the burn from the chili peppers on the back of the palate.  
How did you discover Mike's Hot Honey tasted so great on pizza? 
After my first experience with honey, chili peppers and pizza in Brazil, I started experimenting with honey-chili pepper infusions at home. I tested many different varietals of honey, different kinds of chili peppers and a wide range of infusion techniques until I settled on the recipe that we still use today. I called it Mike's Hot Honey from day one. At first, I only made enough for my own personal consumption at home and eventually started giving it out as gifts around the holidays to friends and family.  
In 2010, my passion for pizza landed me an apprenticeship at Paulie Gee's, a Neapolitan-style pizzeria that had opened near my house in Brooklyn. I brought in a bottle of Mike's Hot Honey one day for the owner of the restaurant, Paulie, to try. He loved how it paired with his hot soppressata pie and asked me to make more for the pizzeria to drizzle on pizzas. The combo of the sweetness of the honey, heat from the chilies and savory flavors of the cheese and cured meats were pizza perfection. Customers and staff all loved it, and at that point I knew I had a bonafide pizza condiment on my hands!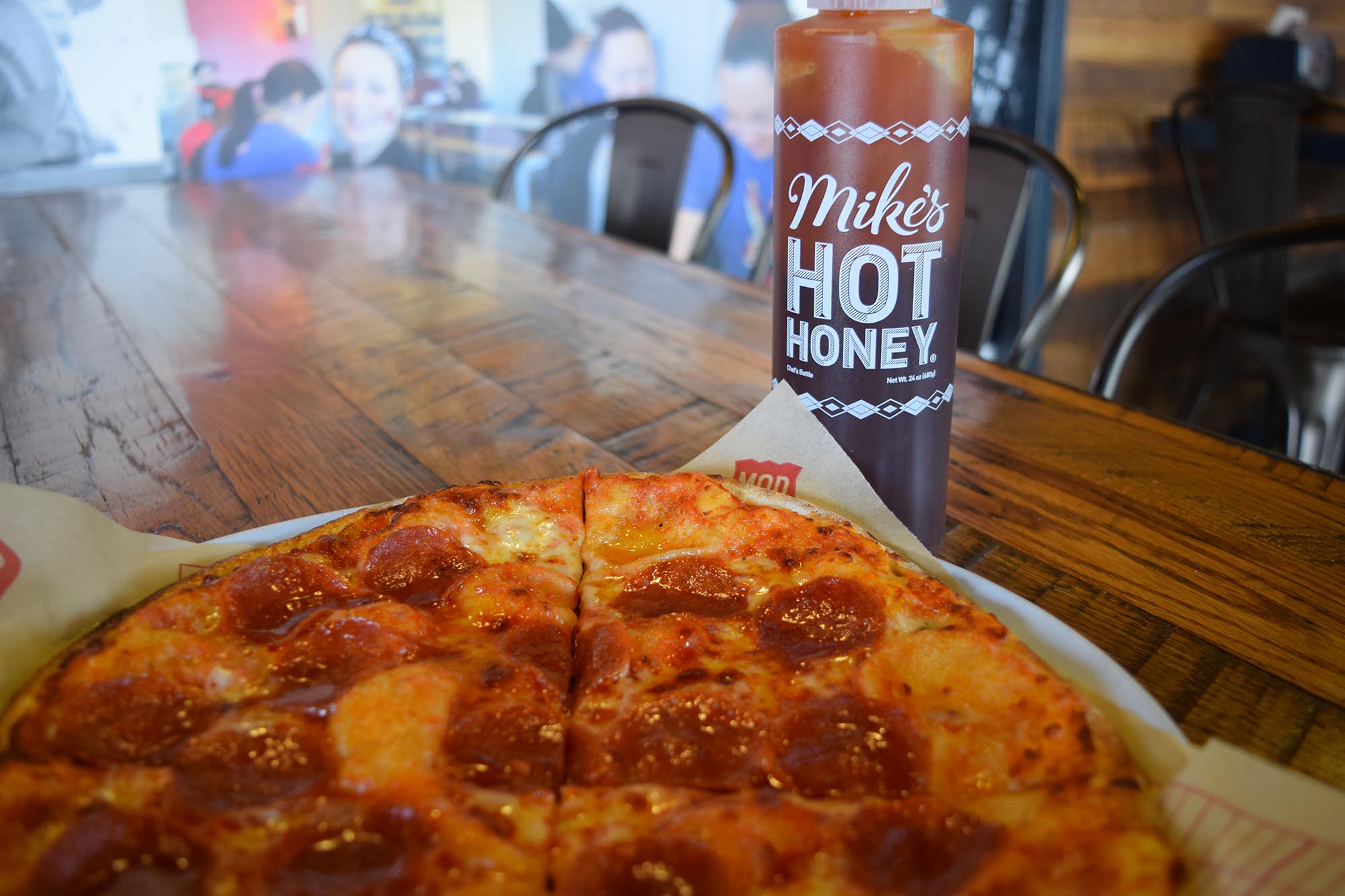 What's the reaction when people taste your honey for the first time?  
Most folks have never tasted anything like Mike's Hot Honey before, so it's really fun to witness people tasting it for the first time. First, they get the sweetness and floral notes of the honey and then, after a one second delay, the heat kicks in and there's that 'ah-ha' moment when they feel the burn. 
What inspires you?  
I'm really inspired by all of the different immigrant communities in NYC who contribute to our city's food scene. NYC is one of the greatest eating towns on the planet, and we've got delicious and authentic food from all corners of the globe. Eating through NYC is like taking a trip around the world within the confines of the subway system. We're fortunate to be surrounded by so many talented chefs who have shared their culture and food with the city and its eaters.  
What's your favorite MOD pizza?  
It's a tough choice, but I really dig the Mad Dog. The sweetness of the sauce and savory elements of the meats and cheese is well balanced — and depending on my mood — I just might add a drizzle of Mike's Hot Honey to bring it all together! 
---
Learn more about Mike's Hot Honey, and make sure to try it on your favorite pizza next time you visit MOD. 
A big thanks to Mike for partnering with us, and for joining us on this amazing journey. You can tell from his answers above that Mike really gets us – he's totally MOD!