MOD Careers
Our People Come First
Are You MOD?
Join The MOD Squad
Everyone has a seat at our table — and that's what makes MOD such a special place to work! Providing opportunity and fostering a culture of belonging allows the MOD Squad to build vibrant communities across the world.
We're looking for people who demonstrate our 4 G's:
GRIT — Shows courage, anticipates future needs, and overcomes challenges head-on.
GROWTH – Explores, investigates, and learns in the spirit of continuous improvement. Questions the status quo.
GENEROSITY — Generously gives of themself to be of service to those around them.
GRATITUDE — Shows appreciation for others and is thankful.
Explore opportunities below and learn more about what it means to be MOD.

Choose a location to see current openings.
*Some MOD locations are operated by franchise partners. If your selection is a franchise location, you'll be directed to their website or contact. Career opportunities and benefits are unique to and may not be the same at each location.
Why MOD?
Pay & Perks
A paycheck is just the beginning. Our non-managerial store employees get tips on top of base salary. Squad members who work 30+ hours a week receive generous benefits. And yes, we offer free meals per shift and cool MOD swag.
Career
We believe in developing our talent at MOD. We strive to provide new opportunities or promotions when business needs, skills, and individual readiness align. You own your own development, and your leader is committed to working with you to realize your potential.
Community
MOD offers access to support programs including the Bridge Fund, an assistance program we created to help MOD Squad members in times of crisis. In addition, Squad members have opportunities to give back to the community – what we call "spreading MODness." These include participating in fundraisers and sponsoring other activities in your area.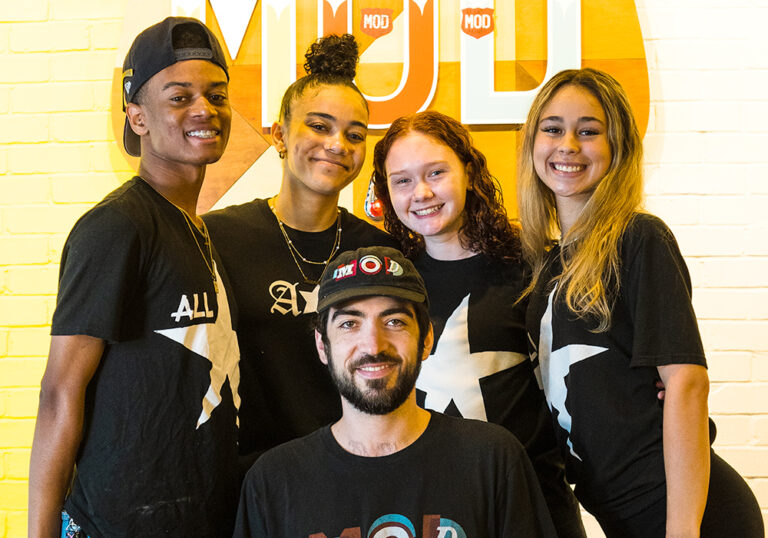 Our Purpose
MOD Exists To Serve People
At MOD, we believe companies can and should be a force for good in the lives of the people they employ and the communities they serve. Our purpose is measured by the positive social impact we can make together.
Learn More